Welcome to Farinex
Food in motion
Farinex is now officially certified carbon neutral!
From an environmental point of view, with our fleet of diesel trucks, we face social and community issues. This may seem counteractive.
However, since we are not in a position to transfer to electric vehicles, we decided to commit thusly and reduce our carbon footprint on the community for the long term.
That is why we actively invested in the CARBONNE RIVERAIN which will ensure the preservation of agricultural waterways.
Although there may be more economical methods to compensate for these emissions, we believe, from
our standpoint, this offers the most tangible results..
We hope we will be able to inspire other businesses to follow in our foots steps. Please visit arbre-evolution.org!
Farinex, it's more than 6000 products of quality
Our way of preparing
for success!
Farinex relies on a business partnership with its customers as well as its suppliers. We specialize in quality ingredients with great variety. Our employees are devoted and dedicated to bring the best of both world.
Explore our services
Established in 1984
It all started with a small store in Laval. Over the years, Farinex has evolve to become a specialist in the field of bakery and pastry products.
Explore our services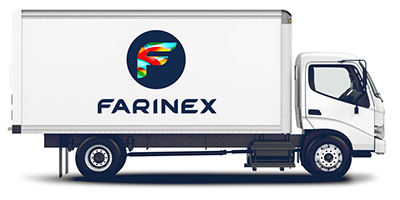 Farinex is a distributor, brand developer and importer of raw materials for bakers, pastry chefs, chocolatiers, ice cream makers, caterers and restaurateurs.