Our Business
Much more than a simple supplier.
Who are we?
Farinex is a distributor, high-end brand promoter and importer of ingredients for bakeries, pastry shops, chocolate and ice cream makers, caterers and restaurants.
Farinex distribute his products in Greater Montreal and across Quebec, and are also resold by other distributors in order to better meet demand.

Farinex is a team devoted to his customers and an unequalled delivery service. We offer a broad range of products and formats in various categories, exclusive ranges and flavors from all around the world. See products section for a complete listing.

On our site, you'll find our extensive product line as well as great recipes. Thank you for choosing Farinex.
Vision
Proud of its food distribution experience, Farinex is committed to remaining a trailblazer in its field, by diversifying its spheres of activities within an innovative perspective.

Mission
Through the excellence of its service and its dedicated employees, Farinex banks on innovation and its flexibility for manufacturing, marketing and distributing quality food products to meet its customers' constantly changing needs.

Values
Customer satisfaction
Innovation
Integrity
Commitment
Responsibility
Through the history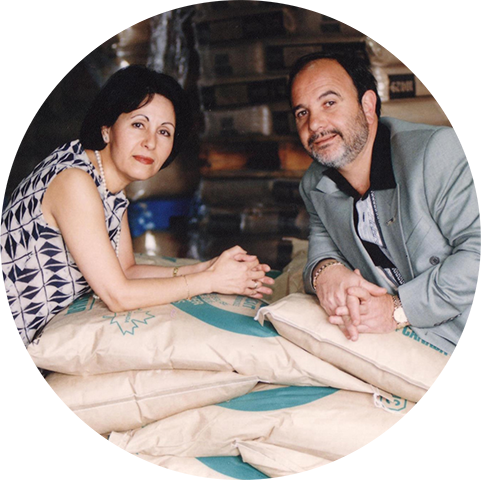 Lisette and Gérard Ohayon founded Farinex in Laval. The company began with a staff of five employees, distributing specialty food products to bakeries and pastry shops.

More than 25 years later, Farinex is now a distribution specialist in Quebec that also sells to restaurants, hotels and institutions. In 1996, after several expansions, Farinex moved to a 30,000-square-foot facility in Boisbriand, creating 22 jobs in the process and bringing its staff to 40 employees.

In 1997, the company created the Farinex Travel Rewards Club. Under this program, which ran until 1999, customers who purchased products from the Club's supplier sponsors earned points that could then be redeemed for a dream vacation. Over 100 customers participated in this program.

In April 2001, in response to customer demand, we began marketing a variety of products from France. This move strengthened our product line and created new jobs.

Thanks to our excellent service and product quality, Farinex won several awards in 2002, including the Lucien Charlebois 2002 best distributor of the year award.

In May 2003, the company launched the Farinex Institute with a view to offering training to its customers and expanding its European product lines.

In 2007, Farinex had a 105,000-square-foot warehouse equipped with freezers, refrigerators, and temperature controlled rooms designed to maintain the quality of such products as quick-frozen fruits and vegetables, fats, yeasts and chocolates.

In 2009, we expanded our administrative offices and added freezers to meet the growing demand for quick-frozen fruits and vegetables.

Today, Farinex has a team of more than 100 dedicated employees who all share our commitment to excellent customer service.

Although our sales are concentrated in Greater Montreal, our products can be found across Quebec and are also resold by other distributors in order to better meet demand.

Because we know that the key to success is staying ahead of the curve, Farinex is constantly on the lookout for new products.